Quinoa
Quinoa is a grain crop originating from South American and is grown primarily for its edible seeds. It is a pseudocereal, similar in some respects to buckwheat, rather than a true cereal, as it is not a member of the true grass family. It closely resembles amaranth, which is also a pseudocereal. The seeds are in general cooked the same way as rice and can be used in a wide range of dishes. Its leaves may be eaten as leaf vegetable, much like amaranth, but the commercial availability of quinoa greens is limited.
The nutrient composition of quinoa is more favourable compared with common cereals as it is high in protein. Unlike other grains, quinoa seeds contain all nine essential amino acids including the lysine and isoleucine. lysine and acceptable quantities of calcium, phosphorus, and iron.
References:
https://en.wikipedia.org/wiki/Quinoa
http://www.bbcgoodfood.com/howto/guide/health-benefits-quinoa
How to cook dried quinoa grains
Quinoa Patties
These delicious quinoa patties have been a favourite at our cooking classes. They are easy to make using basic ingredients you can find at your local supermarket. Slip them into a bun with tomato slices, salad greens and some vegetable mayonnaise to create a mini-burger.
Notes
You can adjust the seasonings to your taste.
Nutritional yeast and Egg Replacer is available at most health food shops in Dublin including The Hop Sack (Rathmines),  Nourish and Holland & Barrett.
I have only found Vital Wheat Gluten at Nourish so far, but other stores may order it especially.
To make this recipe gluten-free use gluten-free bread or porridge oats and omit the gluten flour. 
Ingredients
2 cups cooked quinoa
1 cup finely chopped walnuts
1/2 cup ground cashew nuts
1/4 cup ground flaxseed
1 cup whole-wheat bread crumbs (or porridge oats)
1 tablespoon olive oil
1 onion, chopped
3 cloves of garlic, minced
1/4 cup chopped celery
1/2 cup water
1/2 teaspoon salt
1 tablespoon chicken-style seasoning
1 tablespoon Liquid Braggs Aminos (or soy sauce)
2 tablespoons nutritional yeast flakes
1 teaspoon Italian herbs
1 teaspoon egg replacer in 2 tablespoons water
1 tablespoon gluten flour (also called Vital Wheat Gluten), optional
Method
Mix all the ingredients in a bowl
Form into patties or burgers using hands or an ice-cream scoop
Saute in olive oil until golden grown
Turn and brown on the other side
Alternatively
Preheat at oven to 180 degrees celcius
Bake for 20 minutes on one side
Turn over and bake the other side for 10-15mins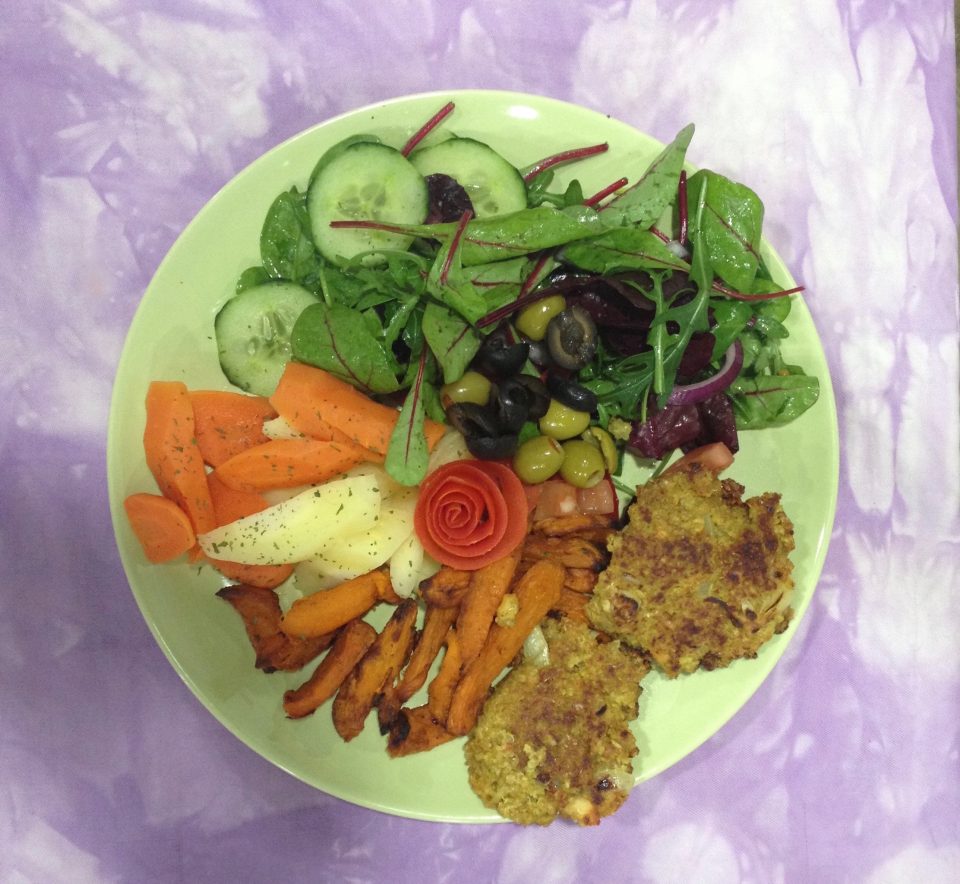 Brands available in Dublin